Row House in Goa on Offer

Loading...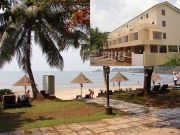 sales@pmg-goa.com
+91-832-2438559

I needed to dissolve a transaction into which I had entered and the matter was handled tactfully.
-Ranjit Sethi
Former Ambassader, Govt.of India
See More
Your timely advice has helped us in purchasing three properties in Goa. Ethics of the highest order.
-Sansar and Anuradha Chandra
Singapore
See More

Our recent deals will give you an indication of the market we cater to and the range of properties we offer.